Mouse Monoclonal Antibody Production
Advanced Biomart provides high quality mouse monoclonal antibody production services. Our proprietary Mouse Quick-Hybridoma™ Platform allows generation of 50+ hybridoma clones per hybridoma cell fusion step. This platform is developed based on our new mouse adjuvant,
FastAb™ Mouse Adjuvant
, which enables generation of a large number of hybridoma clones using less immunogens.
We have optimized the entire mouse monoclonal antibody development process to increase efficiency and probability of success. We guarantee the positive clones for monoclonal antibodies developed in mouse.
Mouse Monoclonal Antibody Production: One-Stop Services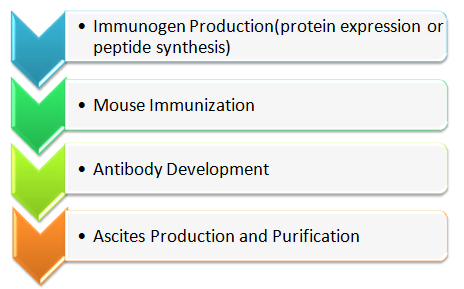 Key Features:
Less immunogen required

Higher titers and affinity

Time saving

Large number of hybridoma clones

Cost effective
For quotation requests and other detailed information, Welcome to
Contact Us
or send an email to [email protected]